ORBIT
ORBIT

Miguel Ángel Melgares

From 03 Jun to 29 Jul 2017
CATALOGUE
For Orbit, Miguel Ángel Melgares has devised an exhibition structure that is a cross between sculptural installation and set design or theatrical staging. Resembling an abstract landscape, ORBIT is constructed from reflections that revolve around the game of Rock-Paper-Scissors. The primary appeal of this game resides in the simplicity and universality of its apparatus. Rock crushes scissors, scissors cut paper and paper covers rock, thus uniting the elements in a structure with no hierarchy. This closed circuit produces a topological scale where prediction and chance are the opponents' only weapons. In ORBIT, he has transformed the formal equilibrium of the game to create two installations with a series of itineraries or "ways" that oscillate between mise-en-scène and performance.
The rock, the paper and the scissors are the research material. The light, the time and the sound are the tools he use to built this universe. In an attempt to further explore these connections, Melgares has appropriated and modified some of the thoughts set down by Saint Thomas Aquinas in his "Five Ways" to prove the existence of God. These meditations are juxtaposed with the sound taken by the European Space Agency of Comet 67P/Churyumov–Gerasimenko from the Rosetta spacecraft. This dialectical collision was orchestrated to create a space in which spectators can find different ways to approach the sensible, contemplative and abstract universe of ORBIT. 
The exhibition catalogue features an essay by Peio Aguirre titled 'Choreography of parallel activities'.
Openning: June 2, 20.00 pm
Educational workshop: June 17, 11:30 am to 13:30 pm
Guided tour: June 17, 12.00 am
Presentation of the catalog: June 17, 12.00 am
TAGS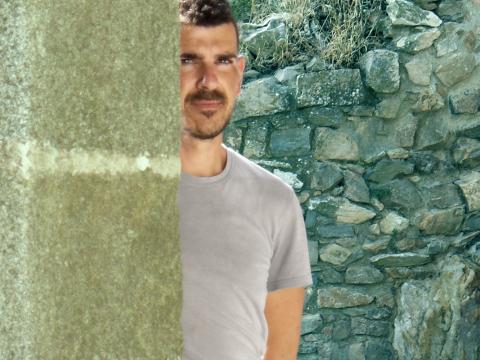 Miguel Ángel Melgares
Málaga, 1980
Works as a visual artist and dramaturg. Melgares's projects have appeared in numerous, most notably Generaciones (La Casa Encendida, Madrid); and Southern Eyes (European Parliament, Brussels).
In 2007, his interest in the performance genre took him to Amsterdam, where he enrolled in the master's programme DasArts, Advanced Studies in Performing Arts. Since then, he has operated in the fluctuating territory between performing and visual arts. In collaboration with the Sobre_LAB research group and the Centro José Guerrero in Granada, in 2015 he founded BastardScene, a permanent seminar on expanded performance, publishing and language.