Natalia Dominguez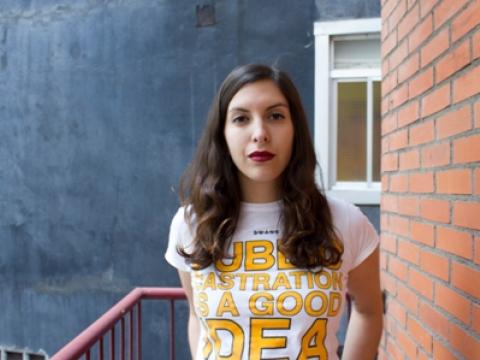 Cádiz, 1990
BFA from the University of Granada and MA in Artistic Production and Research from the Polytechnic University of Valencia.
Some of her exhibitions to date have been Confesiones, her first solo show at Sala d'Arcs, Fundación Chirivella Soriano (Valencia); her stints as an artist-in-residence at Fundación BilbaoArte (Bilbao), El Ranchito Matadero Madrid – PIVÔ São Paulo and alRaso, Valle de Lecrín (Granada); and the group exhibitions Para llegar a ser artista de éxito, ColumnaJM (Málaga), #UNDER35, GACMA (Málaga), A Secas: artistas andaluces de ahora, CAAC (Seville), Mostra d'Art Públi ( Valencia), El proceso, FACBA16 (Granada), Eclécticos, Galería Mr. Pink (Valencia), Si no todas las armas, los cañones, Matadero (Madrid), among others. Domínguez is a co-founder of Espacio Cienfuegos (Málaga) and author of the "Also Starring" section of Nosotros, an online platform for creative and theoretical research in contemporary art.
Natalia Dominguez
Actividades
Natalia Dominguez

Granada

. From 19 Jan to 16 Mar 2018

In Greetings to the Audience, an intense research project that Natalia Domínguez has been working on for the past year, we see that that dissolution is absolutely implacable with our history and our forms of representation.